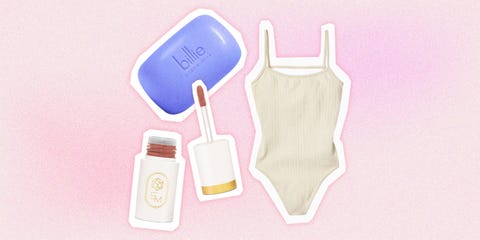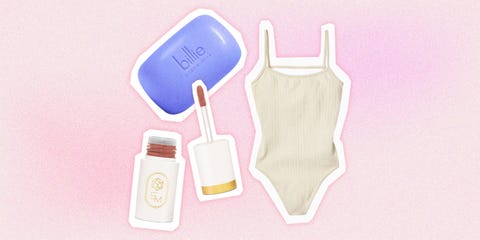 Design by Yoora Kim
Ready for your It Girl™ era to begin? Aside from simply leaning into the coolness that you ✨already exude✨, we can start with catching you up on July's hottest fashion and beauty news. According to WWD, there were a record number of fashion collaborations in 2021 — that's a lot of newness to keep track of! Luckily for you, we're keeping things simple with an easy round-up.
Last month was full of need-it-RN news — think Kylie Jenner's makeup collab with her bestie Stassie, the Dr. Martens x Heaven by Marc Jacobs collection that sold out faster than you can say "add to cart," and the huge announcement about Harry Styles's upcoming line with Gucci. Oh, and we can't forget the CHI x Barbie limited-edition hot tools that were totally dupes for the Dyson Airwrap (but you didn't hear that from us…)
Cool, right? You're in luck because it's a new month and that means even more brand new goodness. This July, we're covering FP Movement's newest athleisure offerings, Wet 'n Wild's latest Disney makeup collection, Elvis shoes from Hush Puppies (blue suede, baby!), limited-edition LoveShackFancy luggage, and plenty more to come as the weeks go on. There's even a contender for best lip product that might just beat out TikTok's favorite Dior lip oil. Keep reading, because below you'll find the hottest fashion collabs, limited-edition beauty launches, and celeb endorsements dropping this month as well as editors' picks from these collections. Before you know it, you'll be waaaaaaay ahead of the curve.
Advertisement – Continue Reading Below
Jennifer Behr x Betsey Johnson
Pre-Order Now
Release Date: Ships 9/12
Pricing: $175
Remember the iconic butterfly clips that Olivia Rodrigo wore to the Met Gala? (Duh, how could we forget?) Jennifer Behr just released two hair accessories with Betsey Johnson inspired by Miss Olivia's lewk and they're totally stunning. If you have a fancy occasion coming up (or just want to feel like an ethereal fairy goddess) these beautiful clips will do the trick.
Shop Now
Release Date: Available Now
Price Range: $24 – $38
By now you know that the 2000s are totally back — so apply your frosted lip gloss, throw on your Y2K sunglasses, and accessorize with earrings from STUDS' limited-edition collection with Playboy for the ultimate '00s look. The brand that coined the Earscape® is offering plenty of mix-n-match options to create the perfect stack.
SoulCycle x Lululemon by B.Kaspr
Shop Now
Release Date: Available Now
Price Range: $65 – $300
Your favorite leggings brand and your favorite workout class just did the ultimate mashup — yes, we're talking about Lululemon and SoulCycle. The 8-piece exclusive collection designed by artist B.Kaspr is available in limited quantities online. The pieces include a gym tank, a cute cropped tee, and the Wunder Train Tights with the SoulCycle skull logo.
Shop on 7/20
Release Date: July 20 at 10AM PST
Dreaming of matching workout sets in sage greens and baby blues for the most ~aesthetic~ coffee run ever? OG influencer and blogger babe Aimee Song teamed up with Set Active for an Italian-coast-inspired collection of workout sweats, shortysuits, and perfect slouchy pullovers. Your gym wardrobe will thank us.
Pete Davidson Joins MANSCAPED as Brand Partner
Watch the commercial
"Surprise your girlfriend!" ad-libs Pete in his new MANSCAPED commercial. 👀
The SNL comedian is now brand partner and a shareholder with the shaving company. The SVP of MANSCAPED writes in a press release that working with Pete has been, "the deepest creative collaboration with a celebrity that I have experienced. […] And his delivery…well, it's pure Pete Davidson's style comedy." Watch the full commercial above.
Tierra Whack for Banter by Piercing Pagoda
Shop Now
Release Date: Available Now
Price Range: $55 – $1750
Banter (a.k.a. the new, cooler evolution of Piercing Pagoda) just appointed Tierra Whack as their first-ever creative director, and the rapper designed a collection of funky, expressive gold jewelry that feels bold and different — but still totally wearable for everyday.
STATE Bags x LoveShackFancy
Shop Now
Release Date: Available for pre-order now
Price Range: $85 – $325
LoveShackFancy collectors, we have something you're going to want to get your hands on. The whimsical brand teamed up with STATE to create a collection of travel bags that are the definition of wanderlust. The cottagecore-inspired prints will have you feeling your most playful — even after a 12 hour flight.
Plus, a portion of your STATE purchase goes towards the company's mission to donate packed backpacks and fund special projects with partner schools.
Shop Here
Release Date: Available now
Price Range: $22-$132
TOMS has teamed up with philanthropic fashion brand KROST to deliver a special limited-edition collection that features TOMS beloved style paired with community and social impact. Proceeds from the collab will provide support to numerous organizations that focus on providing young people access to the tools and support they need to make a change.
Shop Now
Release Date: Available now
Price Range: $75 – $155
'90s icon Demi Moore teamed up with editor fav bikini brand Andie Swim for the chicest collection of swimwear — the vacay/island/resort vibes are strong with this one. The collab just launched, and you can expect crocheted 'kinis, plunge one-pieces, and even a little mini skirt to become your new summer go-to.
adidas Basketball x Hoop York City
Shop Here
Release Date: Available now
Price Range: $35-$75
Acclaimed sneaker brand adidas teamed up with the Hoop York City, a women's basketball community, for a new, vibrant collection that celebrates the city that never sleeps.
Shop Now
Release Date: Available now
Price Range: $48 – $168
Get your dancing & sweating on in FP Movement's latest collection with The Class, an NYC-based (and digital!) mindful workout collective that offers some really cute activewear. You'll be able to channel the balletcore trend with leotards, onesies, and flowy skirts as you get your heart rate up with a 30-day trial of The Class that comes free with any purchase of the collection on the FP website.
Shop Now
Release Date: Available now
Pricing: $7
Navigating shaving can be tricky, especially when you're trying to avoid the pink tax. Luckily there are brands like Billie that 1. make sure you aren't paying extra just for buying a razor marketed to women and 2. are ridiculously cute. Billie just came out with a bar-shaped exfoliator called the Body Buffer Bar for easy application — it'll be your smoothest shave, like, ever.
Shop Now
Release Date: Available now
Price Range: $134.95
Austin Butler, WYA? The unisex loafers and oxfords that Hush Puppies just launched are totally Elvis-approved — think blue suede, baby pink, and classic b&w. "Elvis embodied this casual cool, and we are thrilled to bring his bold style back with a specially crafted collection of footwear in celebration of the launch of […] ELVIS." These kicks are easy and chic — or as Elvis would say, "ain't no big thing."
Glamnetic x Hello Kitty & Friends
Shop Now
Release Date: Available now
Pricing: $21.99
Haven't hopped on the press-on train yet? Maybe these adorable nails can convince you to try them out. Glamnetic teamed up with Sanrio to create a Hello Kitty & Friends collection, so you can deck out your digits with the cutest designs.
EM Cosmetics Everglass Lip Dew
Shop on 7/26
Release Date: July 26
Price Range: $22
Glossy, moisturized, totally smooth — those are some of our favorite words. EM Cosmetics is coming out with a lip product they describe as a "serum-gel hybrid," and you didn't hear this from us, but these lip oils very well might be a dupe for TikTok's favorite Dior lip oil…for a more affordable price.
Shop Now
Release Date: Available now
Price Range: $16
Less is more when it comes to summertime beauty trends. The Body Shop's new Sheer Touch Lip and Cheek Tint nourish and hydrate while adding the perfect pop of color.
Herschel Supply x The Simpsons
Shop Now
Release Date: Available now
Price Range: $29.99 – $129.99
Bright, playful, campy aesthetics are in — and The Simpsons fans are going to want to snag a piece from the show's recent collab with Herschel Supply. The products aren't too "merch-y" while still letting you pay homage to your favorite Simpson whether that's Homer and his donuts, Bart and his skateboard, or Marge and her iconic blue hair. Oh, and each product is made of 100% reccycled fabrics.
Lilo and Stitch x Wet n Wild
Shop Now
Release Date: Available now
Price Range: $6.49 – $16.99
It's been 20 years since Lilo & Stitch taught us that ohana means family, and Wet n Wild is celebrating the anniversary with a collection of makeup that'll have you ready to book your next vacay.
Pro Tip: Wet n Wild palettes tend to have some of the most pigmented eyeshadows that you'll find in a drugstore. 15 shades for under $20? We'll take two, please.
This content is created and maintained by a third party, and imported onto this page to help users provide their email addresses. You may be able to find more information about this and similar content at piano.io
Advertisement – Continue Reading Below